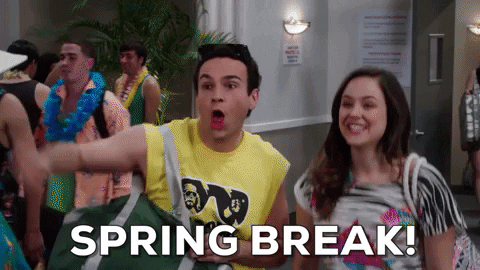 Last week was my Spring Break from the school calendar. As a teacher, this school year has been exceptionally challenging with navigating virtual teaching, trying to support my students, and dealing with situations I never thought I'd ever have to. So when people asked me what I was going to be doing for Spring Break, my answer was always the same: READING. It's all I wanted to do to escape the every day stressors of working/living in a pandemic. Here are the 11 books I was able to dive into on my week off:
Queen Move by Kennedy Ryan
Format: Audible
Rating: 4/5-Great second chance romance from an author I was unfamiliar with. The two main characters are torn apart from their budding love as adolescents for reasons they don't discover until later on. Lots of little plot twists made this complicated love story an enjoyable listen.
The Broken Vessel (The Chronicles of Luna Moon #2) by Winter Rose
Format: Kindle
Rating: 3/5- I mentioned in my April radar post that I was so excited for this continuation of Luna's reverse harem series, as book #1 came out back in 2019. And I really...really wanted to like this book, but unfortunately it fell flat for me. This was due mostly to pacing: the first 1/4 of the book just seemed to draaaaaaaag and I felt that the action didn't pick up until the second half of the book. The cliffhanger was great, if not a little predictable, but bottom line: I'll continue reading the series and hope for a strong book #3!
Last Chance World (Immortals of Talonswood #4) by Alex Lidell
Format: Kindle
Rating: 3/5-Fans of fantasy reverse harem series should be familiar with Alex Lidell. Her Power of Five series is *chef's kiss*. IoT happens in the same universe as PoF, with some surprise guest appearances from PoF characters, however this conclusion of the IoT series missed the mark for me. It felt rushed at only 200 pages, and some main characters were sorely under-utilized.
Please Put Them On, Takamine-san (Vol. 1) by Yuichi Hiiragi
Format: Paperback
Rating: 4/5- I bought this manga on a whim during a trip to the bookstore with my mother. It was wrapped in plastic, it had a parental advisory label on the cover, the blurb was ridiculous, so I thought 'why not?' I laughed my way through this naughty manga about a girl who can go back in time by taking off her underwear, and the guy who discovers her secret. It was so out there and crazy, but I had a good time reading it!
Be the Girl by K.A. Tucker
Format: Paperback
Rating: 4/5- This was a sweet YA novel from an author I trust to tell a good story and pull on your heart strings. Trigger warning for bullying themes (but not between the character and her love interest).
The Ruthless (Queen Crow #2) by J. Bree
Format: Kindle
Rating: 4/5- Solid continuation of this mafia series. The world of Mounts Bay that J. Bree has created is sordid and violent and makes for a fun read lol. Although I'm not sure what direction this series is heading in anymore in terms of love interest(s). Is it a triangle? RH? Menage? I guess we'll see when book #3 comes out in July...
Second First Impressions by Sally Thorne
Format: Paperback
Rating: 4/5- Much like The Broken Vessel above, this was a highly anticipated read for me. All in all it was a decent story, but ultimately I felt more invested in the secondary love story within the book than with the two main characters themselves. Definitely better than Sally Thorne's previous release though in my opinion.
Life's Too Short (The Friend Zone #3) by Abby Jimenez
Format: Paperback
Rating: 5/5- If emotional torment was a crime, there would be a warrant out for Abby Jimenez's arrest. This woman continues to write gripping and poignant love stories and I am here for it. 5/5 stars, y'all. Just read it.
Without You by Marley Valentine
Format: Audible
Rating: 3/5-M/M romance with a twist: Deacon has never had a relationship with a man but develops feelings for his dead brother's boyfriend.
The Intimacy Experiment (The Roommate #2) by Rosie Danan
Format: Paperback
Rating: 4/5- A sex worker and a rabbi walk into a bar...no really, it happens in the book lol! Great read from an author I'm very excited to follow from her debut novel (The Roommate). Start there and enjoy!
The Prince and the Dressmaker by Jen Wang
Format: Paperback
Rating: 5/5- I borrowed this YA graphic novel from my BFF Lindsey and she just might never get it back! Super sweet story about self-discovery and the people who love you no matter what.